WHO WE ARE
"Technology You Need From People You Trust"
Our motto at CWS is simple, and we stand by it. We know that in these modern technologically advanced times, you need the office infrastructure to support innovation that will take your business to the next level. At the same time, you're probably hoping you can find a personal and friendly customer service-focused team that will not only help you finish the job but go above and beyond.
Look no further, because CWS combines the technical expertise of over 40 years with a team dedicated to building a relationship with you and your team, and finding you the products your business needs to succeed.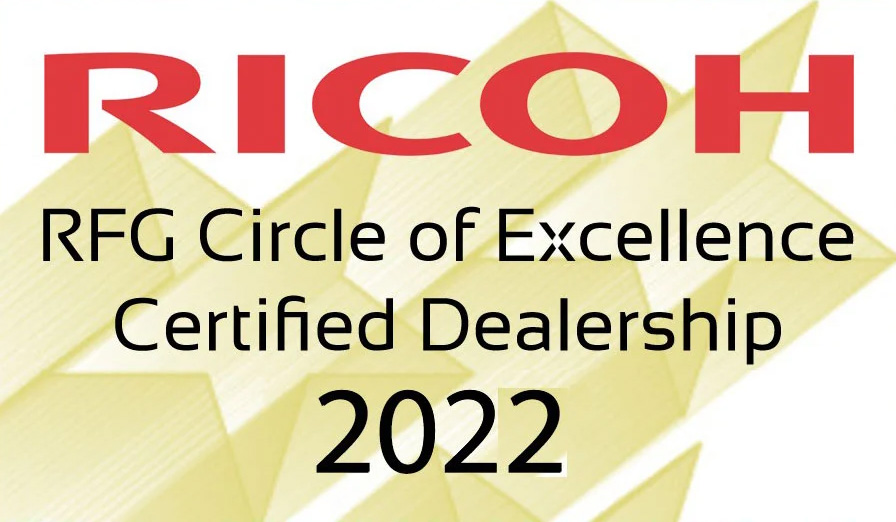 CWS Office Solutions Receives Ricoh RFG Circle of Excellence Award
RICOH has recognized CWS Office Solutions as a RICOH RFG (Ricoh Family Group) Circle of Excellence for the year 2022. This prestigious award is designed to recognize Ricoh partners who provide outstanding service and support in accordance with Ricoh's stringent guidelines for quality and service.
CWS is honored and thrilled to be presented this award by Ricoh. We pride ourselves on delivering the highest quality of service to our customers.
We offer a variety of software solutions to help your business function at its absolute best. Our solutions come from reliable providers like Microsoft and Google, and will help you streamline your workflow and increase productivity. We offer a variety of solutions which will help you do the following:
Communicate and share
Manage documents
Create digital files
Stay organized
Improve your workflow
Keep information secure
Our solutions will help power your business and compliment our office technology solutions to keep your operations running smoothly.
Microsoft Solutions
Microsoft OneNote
Microsoft OneNote is a digital notebook tool that helps you organize information and thoughts in a straightforward, digital manner. OneNote is easy to use and offers features like pages and sections so you can stay organized. You can edit, annotate or highlight directly in the application at any time. It includes sharing capabilities, making it easy to collaborate and work together with colleagues. OneNote Features include:
Access from across devices
Navigation and search features
Tags for content organization
Ability to draw with your finger or stylus
Mixed media options including audio, video and files
Easy save with a single click
Microsoft OneDrive
As work-from-home solutions become more important than ever and tools like cloud storage and document synchronization get more attention, one program stands out: Microsoft OneDrive. OneDrive from Microsoft offers personal cloud storage for your business. Each user is able to save files, including photos, quickly and easily. OneDrive offers access to files from any device or location, making them accessible for workers in and outside the office. As it integrates with Microsoft 365, it's a good complementary product if your office is using Word, Excel, or any other software in the suite.
Files from any location and any device
Protected and secure storage
Backs up automatically to protect against lost files
Sharing features for easy collaboration
Secure file storage without taking up space on your computer
Scan capability for focus, pics, notes and receipts
Google Solutions
Google Business Apps
Google Apps, or G Suite, is an excellent tool to have in your business's arsenal. It's reliable, intuitive, creative, and adaptable–and, better yet, it's affordable. Google provides popular applications for consumers and businesses alike. From email, to document drafting, to calendar and meeting software, the G Suite will enable your business to work efficiently. Since Google is so popular on the personal side, it's likely your employees are already familiar with the interface making for easy adoption and integration into your business
Gmail: Email for business, with admin controls, no ads, and a customized domain
Meet: Premium video conferencing on a secure infrastructure
Real time collaboration, calendars and meeting planning tools
Built-in security to protect your users and business information
Google Business Apps will help streamline operations for your team and support your office by offering efficient, easy-to-use business tools.
Digital Files
Optical Character Recognition (OCR)
Optical character recognition, commonly known as OCR, refers to a type of software that allows you to scan documents and convert them into digital files. By scanning files into a digital format, you can better organize them, store them securely and permanently, and make them accessible to employees working from any location. OCR is ideal for the following formats:
Invoices
PDFs
Text files
Much more
OCR is a good document management solution to organize essential information related to your business and customers. As most offices move away from paper files, OCR can help them get there.
Searchable PDFs
As the name implies, a Searchable PDF is a PDF that has been scanned using OCR or created by some other means. The content of the PDF, or characters, are read during text recognition of the document then added to the document as a text layer. This enables search functionality within the PDF, which is traditionally not searchable due to the format. For a user, the difference between a searchable PDF and normal PDF is visually almost indistinguishable. Searchable PDFs are hugely beneficial, as they allow you to go back and easily locate information from within important documents – without spending a lot of time reading through it.
OCR has a long list of impressive capabilities, but a few really stand out.
No more manual data entry
Take scanning to the next level
Organize like a pro
CONTACT US TODAY TO LEARN MORE!
SOME OF OUR HAPPY CUSTOMERS
"Pleasants County Schools is about to begin our third year working with CWS for our copier services. The Ricoh equipment is reliable with great features and is easy to manage. We rarely have any downtime, but the service department dispatches immediately when we do. I have called several times with questions on copier features and I've always gotten immediate guidance. The monthly usage reports has helped us budget for and track our paper usage which has resulted in a significant reduction in copies from year 1 to year 2."
Gary Bills
Pleasants County Schools
"I want to thank you and the staff at CWS for the outstanding service and support we have received during our first year of business together. You guys really know what it takes to make and keep people happy. I am happy to report that we continue to benefit from the economy of the equipment and our service agreement with CWS. Working with you has saved our firm thousands of dollars."
Karen Gilmore
Firm Administrator
Carey, Scott, Douglas & Kessler, PLLC
"CWS manages our I.T. Network Infrastructure and they always go above and beyond with their service with us. CWS is second to none and I would recommend them to anyone without hesitation."
Brian Knight
Owner
ALFAB, Inc.
"CWS has provided us with years of outstanding service. Their team has always been great to work with on purchasing equipment and service after the sale. I couldn't imagine our office without their services!"
Jan Dils
Attorneys at Law, LC
"After our current contract expired, we wanted to find a company that provided great service and quality machines. CWS not only provided Doddridge County Schools with quality machines, they have gave us the best service we have ever received from any technology based company."
Darren McCullough
I.T. Director
Doddridge County Schools